Sensational pub drinks for every season
Fancy a tipple or two? Our extensive pub drinks menu is sure to delight. Whether you're joining us for breakfast and a fresh juice, or fancy a refreshing pint of a local cask ale with your fish and chips, we can help you find the perfect pairing for every meal.
Our friendly team at The Horse & Groom are always happy to recommend you something delicious from our perfected pub drinks menu — from craft beers to ciders, Prosecco to pinot grigio, or even a gin and tonic made with exquisite Rhubarb gin from our partners at Warner's Distillery.
Ready to join us? We've got a selection of beautiful country pubs across the country just waiting for you to discover them. Whether you like to enjoy a lazy day on a terrace, or curl up by a roaring fire, book a table with us today.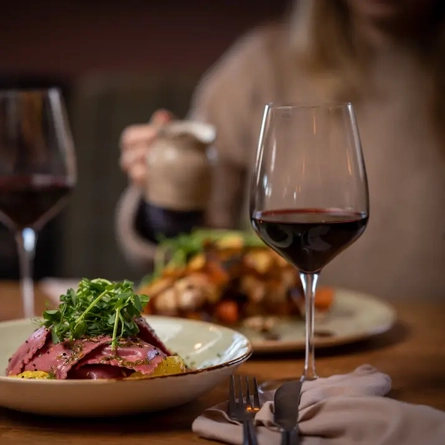 Hand-picked wines
Our top-notch wine menu is hand-selected and sourced from all over the world — as well as from right on our doorstep! Take Bacchus, for example, produced in the heart of Kent with grapes grown across the Southeast of England. Its distinct floral, citrus and grassy aromas are the dream partner to our Sea Bass & Seared Scallops.
Looking for something more classic? Chateauneuf du Pape from France is a warm, velvety red that pairs perfectly with our rich Beef & Pancetta Lasagne. It also pairs well with a great conversation, or a well-deserved date night!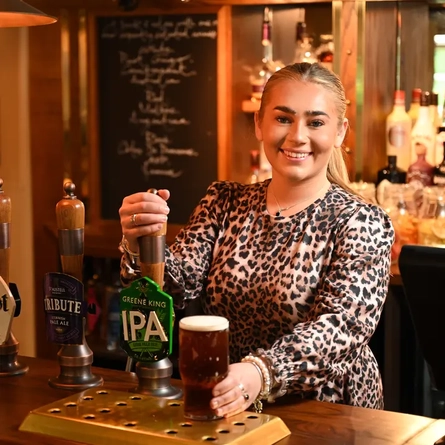 Craft beers & local cask ales
We're proud to offer an ever-changing cast of crafty pints, with cask ales sourced from breweries a stone's throw from our cherished pubs. Ideal for enjoying alongside all the pub classics, like our Hand-Battered Atlantic Cod (served with chips and tartare sauce, naturally), or maybe even to help wash down our delicious seasonal pies.
Not sure where to start? Chat to our friendly team! We'll be able to recommend something that suits your tastes from our impressive menu of pub drinks.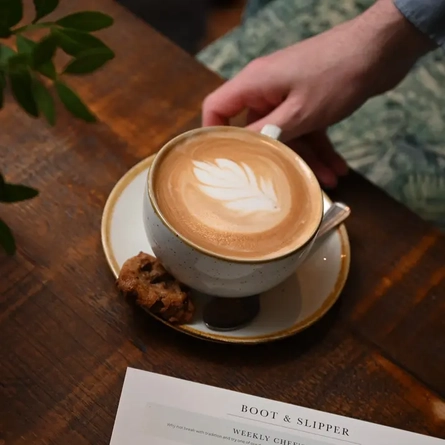 Hot drinks
What could go better with breakfast than a steaming hot cuppa? Whether you like a classic English Breakfast, an Earl Grey or even something herbal, we're proud to serve delicious Twining's tea with your Smoked Salmon & Egg on sourdough. Or maybe you're treating yourself to a stack of our Buttermilk Pancakes and fancy a Green & Black's Organic Hot Chocolate?
If an after-dinner cappuccino is more your thing, we've got you covered. All our coffee beans are Rainforest Alliance Certified, so you know every sip is making an impact.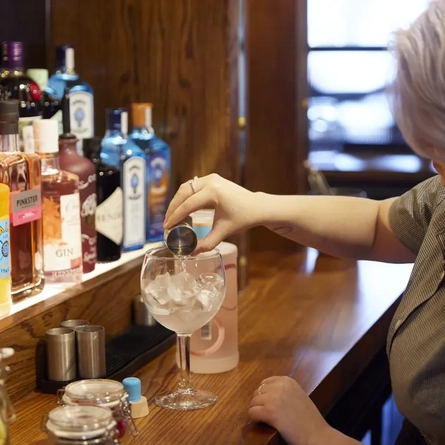 Smashing spirits
Lunchtime catch-up or an occasion worth celebrating? Cheers to that! Join us for a classic G&T, like the sensational Boe Violet, paired perfectly with Fever-Tree Elderflower Tonic. Or maybe you like a pink gin? In which case, Malfy Rosa, a deliciously delicate gin with notes of grapefruit, rhubarb, citrus and anise, is sure to delight.
We're also proud of our partnerships with local suppliers — like Warner's Distillery, who craft delicious gins on their family farm in Northamptonshire, protecting natural habitats and supporting biodiversity. For something truly gin-spirational, pair Warner's Rhubarb gin (made with real, freshly pressed rhubarb!) paired with a refreshingly light Fever-Tree tonic.