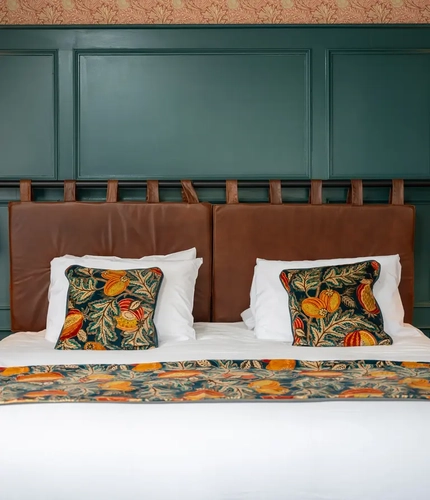 The Royal Inn, Portishead
Seaside bliss on the coast of Somerset
Escape to the West for picturesque coastal charm and refreshing walks along the shoreline when you book a stay at The Royal Inn, nestled in the heart of Portishead.

Adorned with stunning 17th century features and beautifully appointed en-suite double and family bedrooms, some available with stunning sea views. The Royal Inn, Portishead provides the ideal foundation for your coastal retreat. Experience a serene sanctuary, where premium amenities such as luxe toiletries, tea and coffee making facilities, and complimentary Wi-Fi are just a few of the charming details that await you.

Please note we have a limited car parking at the property.
Make the most of your stay and unveil Portishead's coastal wonders
Explore the rich history, natural beauty, and cultural influences of Portishead. History enthusiasts will enjoy Portishead Victorian High Street just a 12-minute walk from the hotel and pub, featuring beautifully preserved buildings and a selection of antique and vintage stores. Spend some time at Portishead Marina and take in scenic views of the harbour or enjoy a leisurely stroll at the Portishead Lake Grounds, a picturesque park with beautiful gardens, a lake and stunning walking paths. There is also plenty to do with the family such as heading to Noah's Ark Zoo Farm, just a 15-minute drive from the pub.
Relax with a meal or drink in the pub
Join us next door to indulge in a quality pub dining experience in our pub where you can unwind and enjoy a mouth-watering menu of pub classic and seasonal specials. Settle in our cosy seating areas and take your pick from light lunch dishes to hearty Sunday roasts – there's plenty of choice on our seasonally-inspired menus. Pair your meal with a selection from our well-stocked bar, which boasts local cask ales, fine wines and thoughtfully sourced soft drinks. On brighter days, why not soak up the sun while dining alfresco on our stunning terrace garden? Don't forget to make a booking in advance to avoid disappointment.
Make it a date and book a room at The Royal Inn
1 / 19